Elev8 Consulting Group CEO and Founder Angela Delmedico Presents Publicity and Marketing at Annual "Win the Storm" Conference

Elev8 Consulting Group CEO and founder Angela Delmedico is presenting on marketing and publicity tactics to construction and restoration industry professionals at the "Win The Storm" Conference March 3-4, 2016 at the Hard Rock Hotel and Casino in Las Vegas. The "Win the Storm" conference provides proven systems to assist contractors and owners to scale and build large effective teams to mobilize their crews and staff, work with insurance companies, and provide residential and commercial property owners timely, accurate and full scope repairs.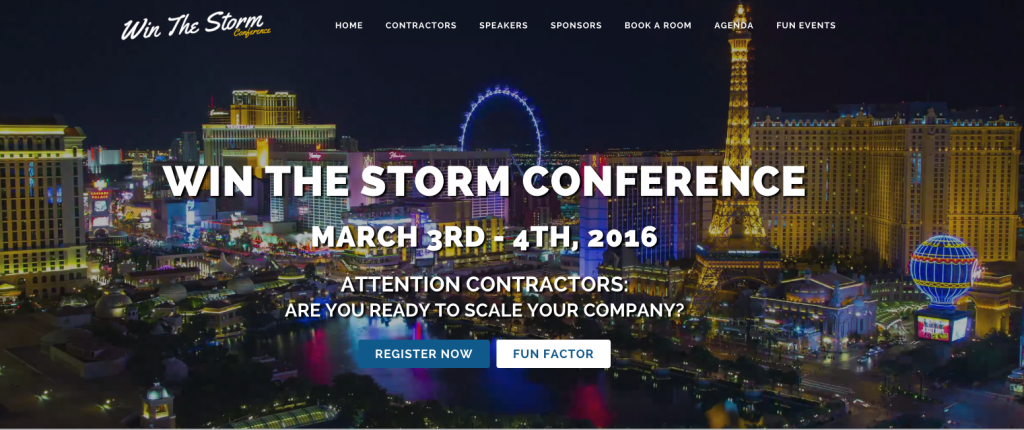 Win The Storm features leading speakers from various sectors including sales, software, technology, construction law, industry reform, tax, insurance, public adjustments, marketing, and publicity.Featured speakers include Anthony Delmedico, SVG CEO and founder and author of the popular book Win the Game, presenting on how to exponentially grow your business while helping property owners recover; Grant Cardone, CEO of Grant Cardone Sales Training University, presenting on the art of the sale; Lindsey Douglass, licensed public adjuster and managing partner at The Disaster Advocates, Inc., presenting on effective claims adjustments; Matt Barnes, partner at Barnes Tax & Advisory Services, presenting on tax laws and deductions; Joe Radcliff, founder of the National Insurance Restoration Council, presenting on industry reform and setting new standards; Angela Delmedico, CEO of Elev8 Consulting Group, presenting on marketing and publicity strategy; Chris Hewson, national account manager at IRoofing, presenting on roof diagramming; Stephen Thomas, senior partner of the Roof Leak Detection Company, presenting on forensic testing; Ray Choate, licensed public adjuster, presenting on large loss claims; Kevin Burpee, senior partner at Pride Public Adjusters, presenting on how to effectively utilize public adjusters and forensic consultants; Dan Barton, partner at the Barton Law Group, presenting on insurance pitfalls to avoid; Bob Green, partner at Green Trial Law, presenting on contingency agreements, assignments and claims; Neil Reithinger, CEO of Eventus Advisory Group, presenting on acquisitions, accounting and finances; John Posey, founder of Genesis Capital Ventures, presenting on cash flow; Trey Gibson, founder of Spotio, presenting on territory management; Steve Selleck, CEO of Strategic Response Partners, presenting on disaster response; John Laub, CEO of Atlantic Construction Solutions, is the 2016 Master of Ceremonies. Vendors include Maxcon Software, Equipter, StormPro Solutions, Qualified Storm Leads, Roof-A-Cide. Learn more at www.WinTheStorm.com!