Meet the Founder
Angela Delmedico, Founder & CEO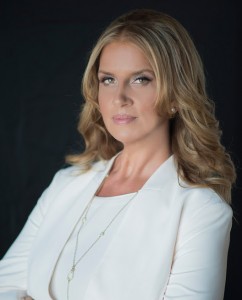 With an unremitting passion for communications at the intersection of business strategy, Elev8 Consulting Group CEO Angela Delmedico specializes in branding and business strategy development in industries ranging from start-ups, small to medium sized businesses, corporate, nonprofit and government. With an entrepreneurial background, Angela has the skills, insight, and abilities to help you succeed with your next initiative, project, company or product launch.  Angela has done it all, taking an idea scribbled on a napkin to a complete product launch onto retail shelves including design, production, marketing, publicity, and sales.
Angela brings 15+ years of experience to a wide range of clients across a vast number of industries. Angela has developed and launched highly effective publicity campaigns and gained a mass amount of media exposure for her clients nationwide via television, radio, print, and online news outlets. Angela creates strategic traditional and online marketing campaigns including but not limited to social media, search engine optimization, email blasts, newsletters, blogs, content marketing and branding, pay per click and traditional ad buys.
Prior to becoming an entrepreneur in 2009, Angela's career spanned corporate, nonprofit, and government sectors with a focus in marketing, project management, and program development. A veteran of the U.S. Air Force, Angela's attention to detail is unrivaled. Angela is a graduate of the University of Minnesota with a Bachelor's in Mass Communications/ Journalism. Prior to that, she earned an Associate's in Linguistic Studies from Monterey Peninsula College in California. Delmedico has been published in numerous media outlets including Medium, The Huffington Post, The New York Times,  All Business, Recruiter.com, and Business Collective.